When I received an email thanking me for writing Just Say It, I was over the moon, as it included the words, 'what a romp', which was precisely the reaction I was hoping for!
Here is our Summer 2021 Newsletter!

What's in it? Well, snippets from Just Say It, plus free eBooks and More!Actually, it's our first-ever newsletter, for which I have to apologise as I know many of you signed up some time ago. Everything I've read about getting yourself known as an Indie author and, most importantly, encouraging potential readers to buy your books tells you to set up a mailing list and send out a newsletter. Something I confess I've been sluggish about doing, but I have been writing my first novel.
If this is your first visit here, well, this the 'about me' bit.

My name is actually Sally Edmondson; Tessa Barrie is my alter ego, or rather my pseudonym. Tessa has been with me since I was nineteen. I had been asked to write a column for a regional newspaper called, Serendipity, and I didn't want my mother to know the slightly risqué pieces originated from my keyboard. So, with a bit of help from my friends, we brainstormed a pen name. Tessa, after my dog, and Barrie, a blatant misspelling of Barry as in Manilow, who had recently wowed me at a very memorable concert in London. After that, I decided to leave all forays into the world of fiction to Tessa while I plodded on with various other writing projects.
Humour is of utmost importance to me. Yes, I like to think I am a bit of a wag, but feedback on the earlier drafts of my first novel delivered a stark warning.
'Make sure you amuse, rather than bludgeon, the reader with witty lines.'
Less is more when it comes to comic writing. So, after many agonising rewrites and several lengthy eye-watering edits, Just Say It was born in June 2021. Novel number two, a murder mystery spoof, is in the pipeline.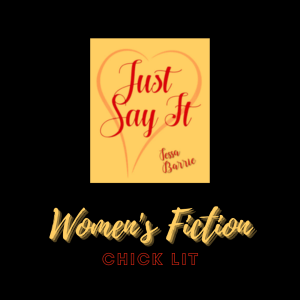 The most important thing that has happened during the last few weeks was, finally, self-publishing my first novel, Just Say It, on 3rd June 2021. I say finally because I have been faffing around with it since 2015. Deb Sutton took me under her wing in May 2021 and honed and polished Just Say It until it was ready to hit the electronic shelves in June 2021.
I was ecstatic when the first few reviews hit Amazon, but when I received an email thanking me for writing Just Say It, I was over the moon. One of the comments was, 'what a romp,' which was precisely the reaction I was hoping for.
After the initial post-publication euphoria, I managing to sneak in a proper holiday before COVID-19 started rearing its ugly head again and came home to suck up the disappointment of COVID-19 cancelled book signings. Now it's back to the grindstone; finishing novel number two and writing newsletters.

If anybody would like to read Just Say It, I would love to send you a free copy of the eBook, and if you could find it in your heart to post a review on either Amazon, Barnes and Nobel, Goodreads, BookBub, that would be fantastic. Good or bad, I need to know. Alternatively, you could leave your thoughts in the comments section on this page of my website; just click on this link, or email me @ contactmyalteregoandme@gmail.com.
Here are a few snippets from the book to help you decide if Just Say It is for you.