Ageing is a slow process, a gradual decline that takes you by surprise, when you are least expecting it. But, don't let it faze you. Embrace it! Grow old disgracefully and enjoy every precious minute of what is left of your life.
When I started writing the Dotage Diaries, I'd just had a bit of a shock. I got up that morning, padded through to the bathroom and looked in the mirror to see my mother staring back at me. It was particularly distressing as she'd died two years previously.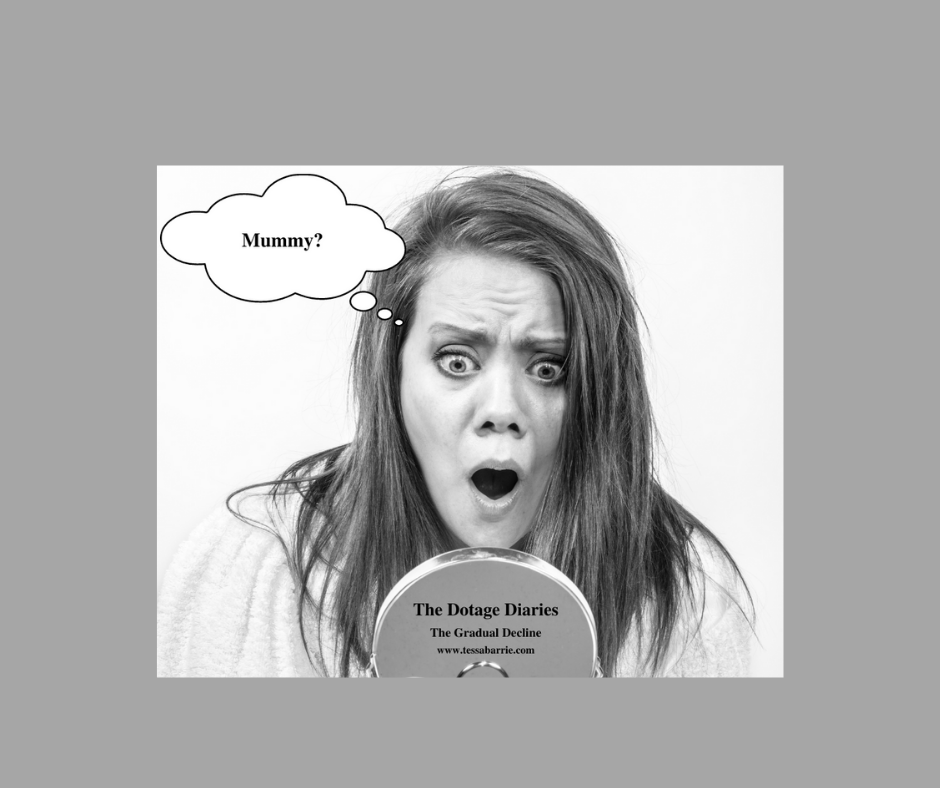 After seeing my mother's face in the mirror, the dismal realisation hit me. I had reached that time of my life, when everything was starting to go to pot. I hadn't seen it coming, because age has a nasty habit of creeping up on you. It's like a bad dream. You know it's going to happen, but it still takes you unawares but, in hindsight I had left a trail of clues in my wake.
I was well known as the Cartwheel Queen. Continuous cartwheeling along St. Ouen's beach - okay, we all have our little foibles! I could spin from El Tico to La Saline Slip without stopping, or getting out of breath. Then one day, after a glass, or two, of wine, I decided to give a cartwheeling demonstration to an enthralled audience on the lawn at home. My shoulder gave way, both arms buckled and I crumpled into a dishevelled heap on to the grass, as one of my quirky obsessions came to an abrupt end.
Another obsession I had indulged in on a daily basis from the age of five was tennis, also came to an abrupt end. The grunting serve, the red bandana, the sturdy little legs... I loved every minute of it, until I succumbed to arthritis during my forties.After that, came the wrinkly skin and the middle-aged spread. Not being able to exercise like I used to took frustration to a whole new level.Then I started forgetting things. Wandering around the house trying to remember where I left my keys or my reading glasses.
Being unable to remember where I left my car in the multi-story car park, was also a blow.I couldn't even watch TV without a certain advert reminding me that 'a little bit of wee is not going to stop me being me.' For goodness sake! What is that all about? Anyway, I consider myself lucky, because it's only when I laugh.Age is but a number, but with each decade you reach it clocks up another milestone in your life. A number that creeps closer to becoming a cricketer's match innings.Take my advice, as someone who is already on the downhill slippery slope, &nbsp;you cannot allow yourself to succumb to the gradual decline! You can't do anything about it, so embrace it! Fight it! Take up paragliding, climb Mount_Kilimanjaro, write your action packed Dotage Diaries! A much-loved, dear departed friend of mine had the right idea when she reached the age I am now. Flaunt your flabby bits! Iron out your facial wrinkles with a smile! Grow old disgracefully</strong and enjoy every precious minute of what is left of your life, and that, as sure as Hell, is what I am planning to do.