I first met James Sillwood at the Jersey Library, coincidentally in the same room where we now hold our Jersey Writers Social Group meetings.
We had been in the audience for a talk given by The Blonde Plotters, three of Jersey's better-known authors, as part of the 2017 Jersey Festival of Words programme.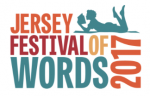 After The Blonde Plotters' absorbing their inspiring words, James stopped fellow audience members as they left the room, asking them if they would be interested in joining a writer's group he wanted to start. My response was an unequivocal 'yes'.
Just Say It was a seed of a novel I'd been carrying around in my head for several years, and that seed was starting to germinate. But unfortunately, at that stage of my writing life, I had no one to talk to about my proposed novel and/or whether it was worth pursuing.
Within weeks the Jersey Writers Social Group (JWSG) weekly meetings, hosted by James, were well under way. One hour every week at the Jersey Library with a core group of about fourteen members. Today we now have a membership of one-hundred and forty-one members. Granted, not every member can make the meetings all the time, but they keep in touch through our Facebook page.
Now, our weekday meetings are for one and a half hours, and there are also evening meetings hosted by another of our members, Chris Rive.
After I joined, James and his wife trolled through an early draft of Just Say It, and, thanks to their feedback, my confidence and belief in myself started to grow. Additional and most welcome feedback during the group meetings too, has been invaluable. After another self-confidence wobble, I finally self-published Just Say It in June 2021 - exactly one year ago today - hauled over the self-publishing line by another group member, Deb Sutton, who also waded through the final edit. I am very grateful to her.
I am proud to say that I am one of the Jersey Writers Social Group's founding members, thanks to James. Had I not joined JWSG in 2017, Just Say It would still be on my hard drive.<br>I am so proud of fellow members who have self-published during May 2022, and it's quite a list!
Melvyn Lumb with his first historical novel, Betty May, 'My First Life.' A bit of a diversion for Mel, as he is our horror specialist!
Jack Hall with Anyroad a collection of Jack's excellent short stories. Jack has the perfect recording voice, and you can find videos of him reading some on YouTube.
Sarah Swan with The Witches of Harley Street: Homecoming. The first of a nine-book series, which is a fantastic achievement.
Donald Brown has added to his collection of books on Amazon with an autobiographical account of his early life, called Trusting to Luck, which he has been entertaining in group meetings for the past few months.
Congratulations everyone! I feel very privileged to be in the same group as you all.
Thank you, James for starting this group, and to all the members of JWSG - you know who you are - who have helped me along the way. I have learned from you all.
Please note that this JWSG feature is a work-in-progress. We have so many talented published authors in our group, it will take me a while to upload all their details. So please bear with me.